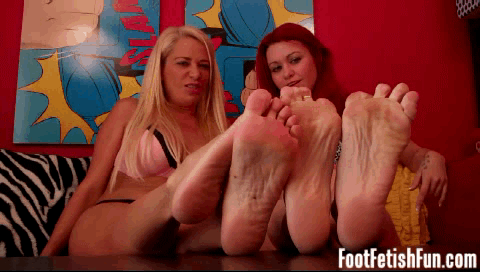 share gif:
Catherine Foxx and Nikki are two dominant foot fetish girls who love making big strong guys their slaves. Treat these hotties right and they will show you heaven, but if you fight it, they will show you hell.
We heard a little rumor that you have a little thing for women's feet. Well it's your lucky day because we are going to let you play with both of our feet at the same time. You're going to think you are in heaven when you are sucking on 20 toes all at once. Do you think you can handle having four feet all to yourself without blowing your load before you even get your cock out of your pants?
If you treat our feet right we might even make you our personal foot slave. That means daily massages and pampering for our sexy little feet. You will have to make sure that our feet are happy every single day. Don't even pretend that isn't your wildest dream come true.
- Catherine Foxx & Nikki Masters