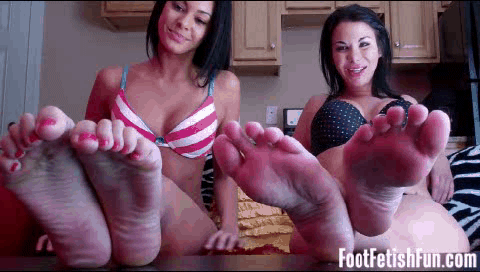 share gif:
Danica Logan and Kenna Valentina are a hot and exotic duo who know exactly how to push a man's buttons. Get down on your knees and worship these two fetish babes because they are truly a pair of goddesses.
We usually don't treat our slaves this well, but we heard that you have a little thing for feet so we thought we would give you a little treat. You can suck our toes and worship our feet. If you do a really good job there might even be a footjob in there somewhere for you, but if you do a bad job then we're never going to let you touch our feet again.
Rub our feet and make sure that you use a lot of oil. It feels so good having your feet all slippery and wet while getting a good hard massage. Look at him, he's already hard just thinking about touching out feet! You must be in heaven right now being able to play with two gorgeous women's feet at the same time.
- Danica Logan & Kenna Valentina