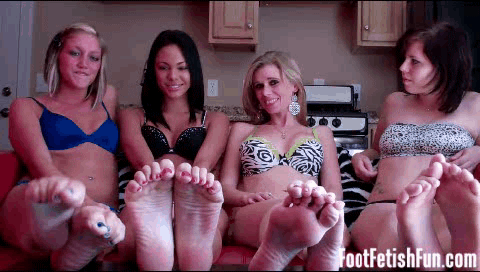 share gif:
Taylor Raz, Iva Sinister, Danica Logan, and Vanessa Vixon are four of the hottest and kinkiest babes you are ever likely to meet. Separately each one of these fetish babes is dynamite but once you get them all together they are a thing of nature.
Try not to have a heart attack, but you see all these feet? They are all yours to play with all night long. We heard how much you loved feet and we wanted to see the look on your face when you heard that you would have four smoking hot women's feet all to yourself to do whatever you wanted with.
Get down on your knees while we line up our feet. There are a lot of toes between the four of us and they definitely aren't going to suck themselves. If you do a good job and give all forty of our toes a good suck we will give you a four way footjob that will blow your mind. How does that sound?
- Taylor Raz, Iva Sinister, Danica Logan, & Vanessa Vixon