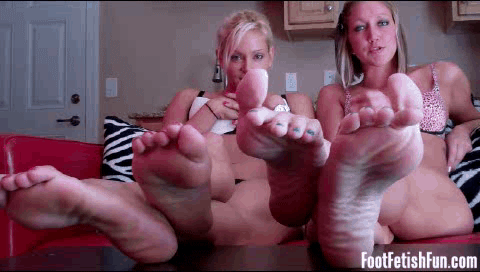 share gif:
Taylor Raz and Summer are two blonde hotties who love twisting men around their little fingers and make them do nasty things. Do exactly what these two hot fetish babes command or you are in for a world of hurt.
I bet you want to take out your cock and start stroking it just from looking at our feet. We've noticed how much you love a woman's feet so we are going to let you masturbate while we tease you with our feet. You should feel lucky because there are a thousand guy's that would kill to pop just one of our toes in their mouth.
Go ahead and pull out your cock, don't be shy. Just lay back and imagine how good it would feel to have both of our soft and sexy little feet rubbing up and down your cock. We've got lot of massage oils and things that would really make it feel incredible having four feet sliding up and down your big hard cock.
- Taylor Raz & Summer Day