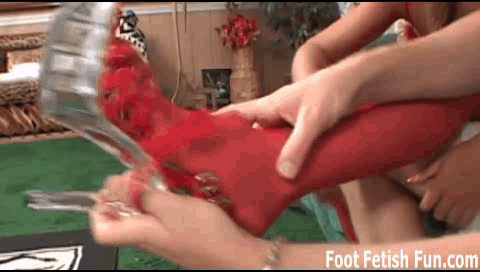 share gif:

You're just obsessed with feet, aren't you? Not a day goes by when you're not thinking about something perverted involving women and their sexy toes and high arches. Today you're going to see some of the hottest foot fetish entertainment around.

These red leggings are my favorite – not only do my legs look amazing, but there's just enough of a tease so that guys who are into feet get a whiff of what's to come. Speaking of smells both figurative and real, how about you peel off these stockings and give your nose a run over my toes?

I love it when guys worship my feet. I do my best to take extra good care of them, so when push comes to shove and the gloves come off (or stockings, in this case!) I get extremely horny. Once you're done kissing them all over and telling me how great they are, I might give you the chance to fuck me. We will have to see, though!